A 31-year-old mother, Ashley White, who just gave birth to her second daughter in April is making bathing soaps with her breast milk
Ashley said that she gave the idea a try when she saw that some mothers did it and it worked fine for them
The 31-year-old mom added that going by the positive interests she has got online, she may start a soap making business
Ashley White, a 31-year-old mother of two children, has been making soap from her breast milk, a product all her family members use.
She started making the soap after she gave birth to her baby in April. Ashley took a cue from mothers after seeing them do the same thing, Sun UK reports.
Ashley, her husband, Paul, and daughters Mylee and Mia have all been using the soap and they all love how it nurtures their skin.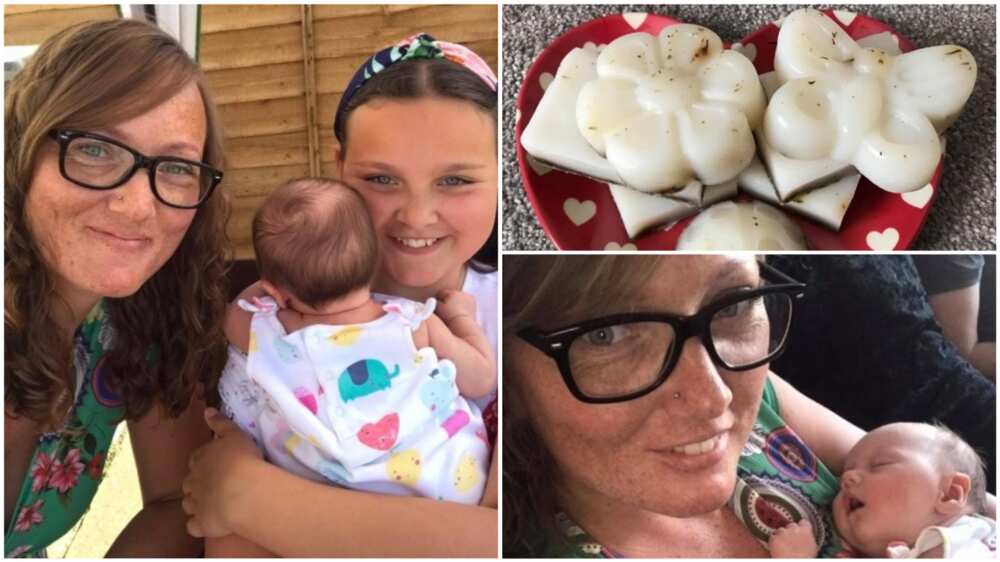 A collage of Ashley and children. Photo source: Sun UK Source: UGC
Prior to making the soap, she said she learned breast milk is a great facial product for eczema, a condition her daughter, Mylee, suffers from.
In making the soap, she uses a microwave to melt glycerine before adding some breast milk and other important oils.
Now that she has a full stock of the soap, she is looking at starting a business with the product after receiving positive online. Whenever she launches, she is looking at selling for £3 or £4 per bar.
Meanwhile, dominitech.ng earlier reported that a rare thing happened as Pregnant Kelly Fairhurst learned she has two wombs and carrying a twin in each of them.
The 28-year-old, a mother of two daughters, also got to know that she has two cervixes and could even go through two different labours. According to her, the twins could be identical, and the condition is one that has been described as a one in a five million chance of happening.
She and her boyfriend, Joshua Boundy, 34, were given the news when she went for her 12-week scan. "…So when I went for this scan, I was really surprised to learn that I have two of them! I just thought, 'God, that's a shock'. It makes you feel incredibly grateful that this has happened to you and you get to have two amazing babies," she said. Kelly also fears the probability that her birth may be premature as her first and second babies were given birth to at four and eight weeks early respectively. I have slept in this shop with my five children for 15 years