A Nigerian man recently proposed to girlfriend with the aid of some SARS officers – In the video currently trending, the man staged a fake arrest leading to a tussle between his girlfriend and the officers – The video ends with him going down on his knees to propose and she saying yes
When it comes to creative and in the case, eccentric marriage proposals, it appears Nigerians never run out of ideas and a recent wedding proposal proves this to be true. Currently trending on social media is a video which captures the moment a man proposed to his girlfriend. However, rather than simply go down on one knee as is the tradition, the young man made her literary 'work' for it.
Using some SARS officers, he staged his fake arrest leading to a tussle between the officers and his lady who wouldn't let him be taken away.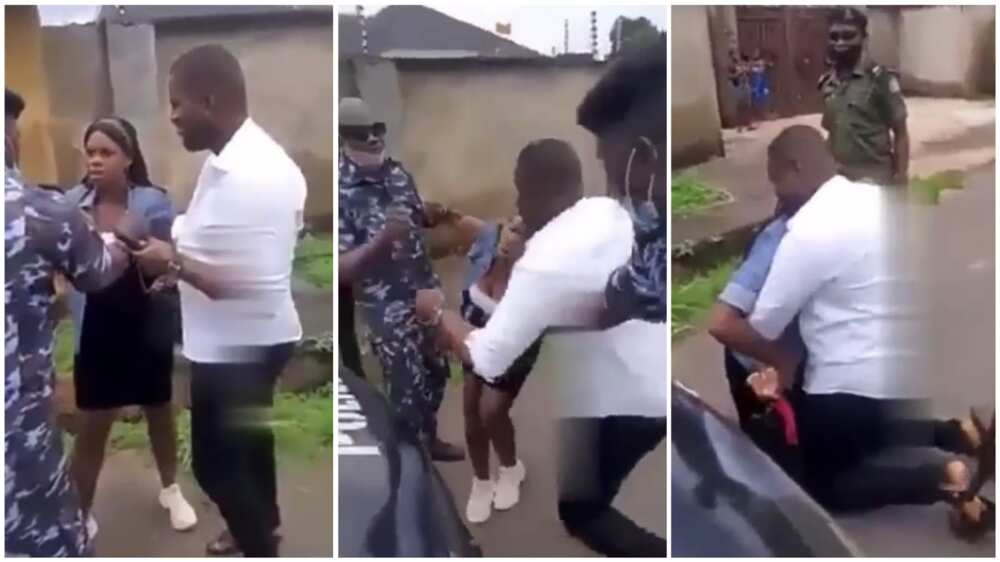 The girlfriend can be seen struggling with the officers. Photo credit: @mediagist Source: Instagram
In the video, the officers can be heard questioning her about the nature of their relationship. She responds to them but refuses to let go of her boyfriend who at this point is wearing an amused look as his girlfriend remains oblivious of what is really going on. He eventually goes down on one knee along with her and then pops the question. Realising what is happening, she hides her face as she says yes, clearly overwhelmed with emotions. The armed officers are seen standing by them, congratulating the couple on their engagement.
In the trending video, the young man is seen been dragged out of a hotel by a uniform man believed to be a SARS operative. The struggle between the two eventually leads to the uniform man firing a gunshot in the air.
While these men chose fake police arrests to get their women, for this young man, however, the presence of God was the perfect place to ask his boo to be his wife. According to reports, the proposal which took place at The Covenant Christian Center in Lagos on Sunday, April 7, took onlookers by surprise. In other news, a man went viral after a video of him proposing to his supposed girlfriend started making rounds on social media. The proposal went awry as the lady on the receiving end said no to her lover.
When she said no, the man proposing got angry and started bawling at her. She screamed back and their verbal exchanges attracted the attention of those around. This video has generated a lot of reactions from Nigerians. Some of them blamed one of the parties or both of them for the proposal gone wrong. How would you react if your woman rejects your marriage proposal in public? domknitech news
get your business logos and graphics designs from dominitech and smile we udate the worlds news , technology , motivations and glamour ………..