The DSS has reportedly arrested Bilal Adamu Halilu
Halilu is the convener of a northern-based group, 'Arewa Lives Matter'
The group was planning a protest across northern Nigeria before its leader was picked up by the secret police
The convener of the northern-based group, 'Arewa Lives Matter,' Bilal Adamu Halilu, has been arrested by the Department of State Services, DSS.
Halilu was picked up by Nigeria's secret police while concluding arrangement for a peaceful protest on the killings in northern Nigeria.
The group had issued a statement notifying the public and the Nigerian police of their intention to occupy all state houses of assembly in the 19 northern states and the National Assembly.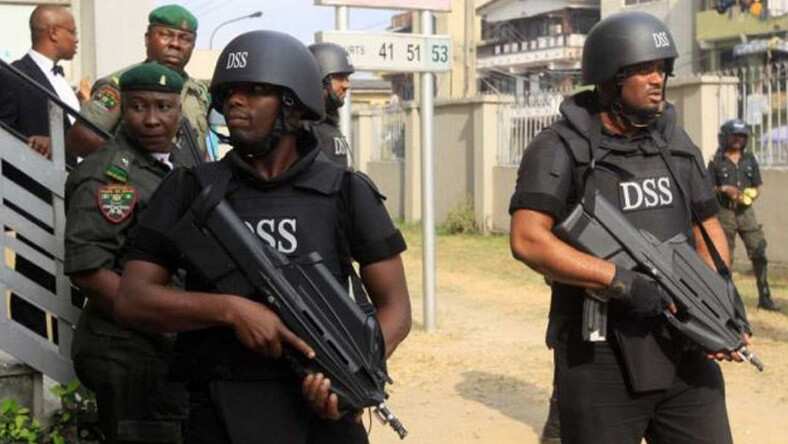 Nigeria's secret police, DSS, is notoriously known for intimidating citizens. Photo credit: The Guardian Source: UGC They also planned on calling on the federal government to stop the incessant killings and attacks on Nigerians, especially in northern Nigeria.
Halilu was said to have sent a distress message to AIT in the early hours of Thursday, July 16 when he was reportedly picked up.
The text message read: "DSS has detained me since morning. I was invited on Wednesday and going into their office, they have created blockades around the Houses of Assembly, preventing us to exercise our fundamental right. They have no intention for discussion but to detain me.
" Meanwhile, President Muhammadu Buhari has dispatched top security chiefs to interface with stakeholders in Zamfara on the lingering security challenges in the state and the entire northwest. The northwest has been under siege by bandits who have been attacking local communities across the region.
In a related development, the Chief of Army Staff, Lt-Gen Tukur Yusuf Buratai, on Monday, June 29 announced that he has relocated to Katsina following continuous attacks on the state by bandits.
Buratai said he is in the state to coordinate activities of the new Operation Sahel Sanity, designed to flush out bandits terrorising parts of the northwest zone.
''I came here two days ago and we will be here for some time to coordinate activities of the troops here in order to get some succour and also be able to resolve some of the challenges,'' Buratai told Governor Aminu Masari during a courtesy call.
Security experts had raised an alarm that insecurity is escalating in the northwest region, with daily killings and kidnappings by armed bandits.
"The authorities' failure to act has left villagers in Zamfara at the mercy of armed bandits, who have killed hundreds of people over the course of two bloody years," said Osai Ojigho, Director of Amnesty International Nigeria. Already, recent attacks in President Buhari's home state of Katsina led to violent protests and calls for his resignation. Soldiers have killed 92 Boko Haram members in the past week – Major General Enenche